Cassie McClure, running for City Council, District One
Cassie thanked everyone who attended her campaign launch last Saturday, June 15, at the Bean on Mesquite. She said she is looking forward to knocking on doors and speaking with voters one-to-one.
For more information email Cassie.
Tessa Abeyta runs again for City Council District Two
Tessa announced that she is running for a second term on the City Council. She mentioned her duties as mother of three young children (they came with her) as well as her work on the Municipal League where she currently serves as president elect. She thanked us for support during her first term, expressed appreciation for the people who have been attending City Council meetings, and invited everyone to her launch party.
Re-Election Launch: Tessa Abeyta for City Council District 2
Saturday, July 1, 5 to 7 p.m.
605 Monte Vista Avenue
For more information email Tessa.
Democrats have surprises for the Electric Light Parade
Rich Ferrary (in his role as newly elected vice chair of the Democratic Party of Doña Ana County) is in charge of the Party's float in the city's traditional Independence Day parade.
Electric Light Parade
Monday, July 3, at dusk
Apodaca Park
Since elections this year are nonpartisan, the float will feature Democratic Party values rather than candidate information. If you'd like to help decorate the float on July 1 and 2, get in touch with Rich. Rich invited everyone to stop by Apodaca Park before the parade begins because the Democrats are setting up a table with "some good information" and plenty of ice pops.
Rich announced that plans are underway for the annual Labor Day breakfast, and you can contact Julia Brown about that event.
For more information email Rich or call him at 575-635-2404.
Yes you can save energy and $$
Allen Downs shared a ton of energy saving possibilities from El Paso Electric. Besides the Time of Day Rate (lower costs except from the peak hours of 3 to 7 pm weekdays) they will help pay for attic insulation and energy star window replacements. They will haul away old but working refrigerators, freezers, and window air conditioners and pay you $50. Go to Allen's website where you will find links to 8 EPE money saving possibilities.
Allen recommended letting the City Council know that we appreciate their intervention in EPE's Public Regulation Commission cases. "The City has done a great job in combating EPE's requests for higher rates. Let them know you want them to keep up the good work," he said.
Round Two: Allen explained that his father had been a part time magician whose magic was more comedy than mystery. Allen introduced us to Waldo, his father's pet flea. You had to be there.
For more information email Allen.
Daniel Buck, running for City Council, District One
Daniel Buck announced his run for City Council, District One. He mentioned several priorities including police oversight, affordable housing, and reviving the El Paseo Corridor. He spoke of experience with the Las Cruces Home Builders Association and their efforts to promote affordable housing.
Everyone is invited to a campaign event next week.
Campaign Meet and Greet
Thursday, June 29, 6 to 8 pm
Amador Patio Bar and Grill, Downtown Las Cruces
For more information email Daniel.
Support for Daniel Buck
Shirley Baca spoke in support of Daniel Buck for City Council, District One. Shirley said she has known Daniel for a couple of years through his work with various Democratic political campaigns and Las Esperanzas in the Mesquite Historic District. She spoke enthusiastically of Daniel's energy, motivation, and youth.
For more information email Shirley.
Legacies of Nuclear Testing
Mary Martinez White invited us to a special exhibit at the Branigan Cultural Center. The opening is at 11 am on July 15. The Tularosa Downwinders Consortium organized the exhibit and that evening they will be holding their annual candlelight vigil in Las Cruces. The vigil honors those who have died as a result of radiation exposure. 
Mary reminded us of the following exhibits and a movie also focused on the consequences of nuclear testing.
Trinity: Legacies of Nuclear Testing. A People's Perspective
July 15 to September 23, 2023
Branigan Cultural Center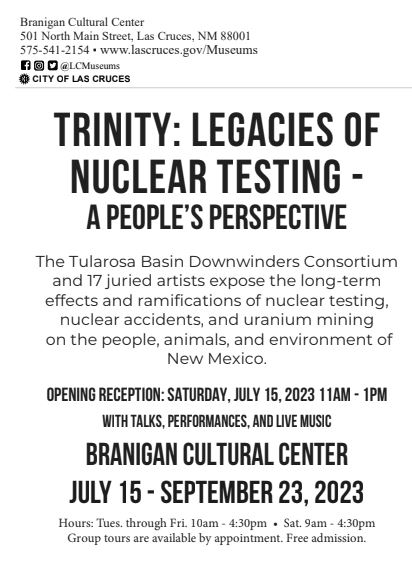 Exposure, Native Art, and Political Ecology
A traveling exhibit documents indigenous artists responses to the impacts of nuclear testing, nuclear accidents, and uranium mining around the world
July 28 to November 12, 2023
El Paso Museum of Art
Oppenheimer
July 21, 2023, nationwide opening of the movie. The Fountain Theater in Mesilla will be showing this movie!
For more information email Mary.
Public meeting to examine Holtec International's culture
Lynn Moorer invited everyone to an open meeting that will take a careful look at Holtec International's track record. The Nuclear Regulatory Commission has issued Holtec a license to store nuclear waste from around the country in Lea County. [An artist's rendering of the proposed facility is here.] This is despite New Mexico's law, SB 53, which prohibits such a facility. Lynn said that she expects Holtec to file a suit to try to invalidate SB 53, Senator Steinborn's bill that disallows the storage in New Mexico of spent nuclear fuel until a permanent repository for high level waste is operational somewhere in our nation.
Seminar on Holtec's Record
Monday, August 14, 1 to 3 pm
Roadrunner Room, Branigan Library
Lynn said that she's had success in other states with this type of public examination of a proposed developer's record. If well attended and publicized it can be "extremely effective in eventually convincing the developer to take its marbles and go home."
For more information email Lynn.
Ward 4 invites all of us to a family picnic. What a great idea.
Janet Martinique explained that we are all invited to the Ward 4 Family Picnic. Bring the whole family plus a dish to share and your plates and utensils. Ward 4 is providing the drinks. Ward 4 officers and "quite a few other elected people" will be there.
DPDAC Ward 4 Family Picnic
Veteran's Park, Roadrunner Parkway
Friday, August 4, 5:30-7:30pm
For more information email Janet and call her at 214-400-3562.
A petition for citizen oversight of police
Peter Goodman explained that he's been advocating for a citizens' police oversight committee, and he is helping to circulate a petition that asks the City Council "to work with all interested parties to implement direct citizens' involvement in policing policies and procedures."
You can review, or sign, or sign and share this petition online here. To receive by email a PDF of the petition to sign and/or to gather signatures out in the real world, email Peter Goodman or Gilbert Vasquez.
For more information email Peter.
Margie Siegel would like to correct the record
[Ed: Early Friday morning, June 23, we received the following correction from Margie Siegel, who spoke at PVA on Thursday, June 22.]
In my excitement over the recent passage of a shield law by the New York State legislature (signed by their Governor), I assumed that New Mexico had not passed a similar law, since I had neither heard or read anything about it in the post-legislative events I attended. But Rep. Joanne Ferrary corrected me–explaining that the NM legislature had passed a shield law. I am grateful she did. Shield laws are significant because they allow abortion providers in NM & NYS to expand access to medical abortions for women living in states that have banned or severely limited abortions, and shield laws protect physicians from being subject to criminal codes re: abortions that states like Texas have passed since Roe v Wade was struck down a year ago.
Article on the passage of a shield law in New York State.
Article on the passage of 2 abortion laws, one a shield law, in New Mexico.
For more information email Margie and call her at 917-459-8550.
What's new and good at Casa de Peregrinos
Eric Walkinshaw thanked those who attended Taste of Las Cruces. Casa de Peregrinos netted about $65,000 from the event, and they really need it for their new facility which is 12,000 square feet (up from the current 4,000). Everyone is invited to the Grand opening in August.
Grand Opening–Casa de Peregrinos New Pantry
Friday, August 11, 4:30 to 7 pm
999 W. Amador Avenue
For more information call Eric at 575-932-8524.
Listen to Allen Downs
Steve Fischmann, formerly of the NM Public Regulation Commission, endorsed Allen Downs's recommendation for saving energy and money. He asked us to please take advantage of the special rates that El Paso Electric offers. Steve said it was necessary for the PRC to shove those rates down the throat of El Paso Electric.
For more information email Steve.
The Legislative Finance Committee is meeting in Las Cruces
Kasandra Gandara, City Council President Pro tem, announced that the Legislative Finance Committee is meeting in Las Cruces July 27, 28, and 29. She said that the focus would be on mental health on July 29. She urged people to attend and support the need for a residential addiction treatment facility in Las Cruces.
For more information email Kasandra and call her at 575-640-6344.
And with that we headed to the Amador Patio
for the 19th annual PVA June party.
PVA takes a break in July
PVA meets again:
Thursday, August 24, 2023, 7 pm