Special Report: Affordable housing is on the ballot.
Beth Bardwell shared information about the critical need for affordable housing in Las Cruces. If the GO Bond on the November 8 ballot passes, the City will have 6 million dollars for affordable housing. That will not be enough to build the 5,000 affordable housing units that the city needs, but it would be a very good start. Beth said that safe and affordable housing is the first rung in the ladder of economic opportunity. She urged us to vote yes on the GO Bond for housing and encourage our friends and family and colleagues to do the same. The graphic below is ready to share on your social media.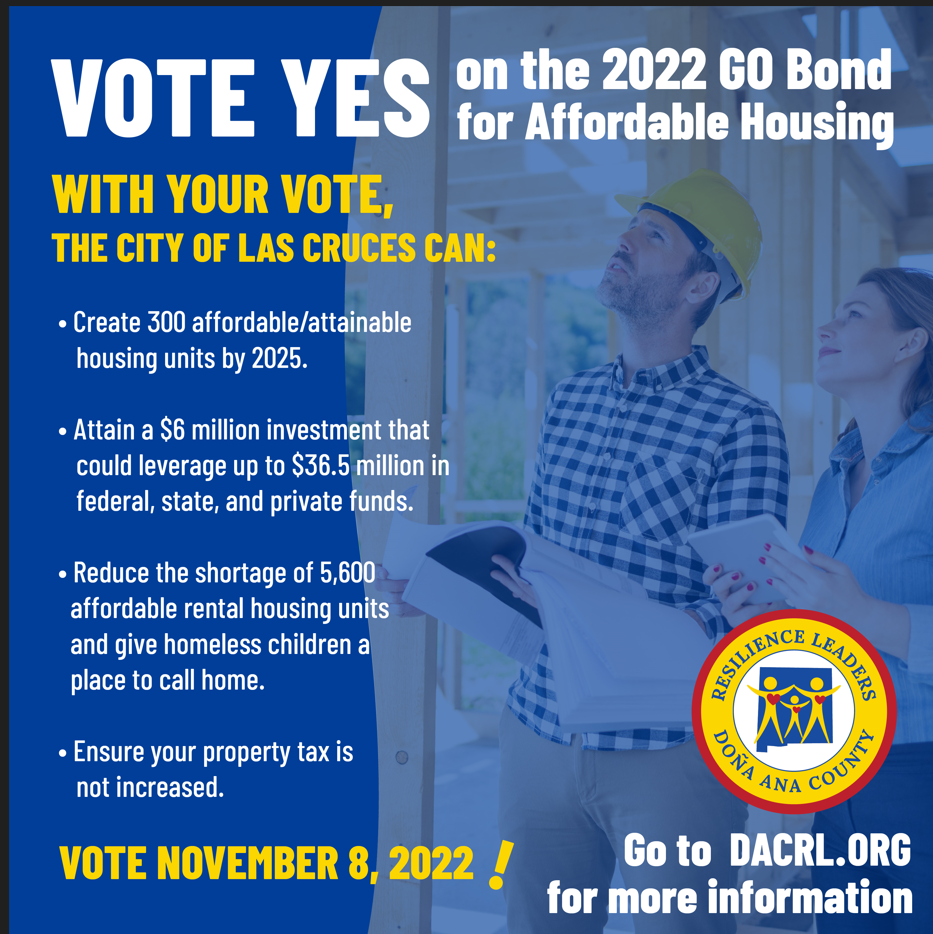 For more information send email to Beth.
Unified Action
Don Kurtz presented PVA's traditional pre-election Unified Action: Reach out to friends and family members, urge them to vote, and let them know how you have decided to vote on candidates, amendments, and bonds. Don't underestimate the power of your personal network.
For more information send email to Don.
Casa de Peregrinos reached their impressive fundraising goal
Eric Walkinshaw announced that Casa de Peregrinos met their September fundraising goal of $80,000. He thanked everyone who participated. Eric explained that Mary Lujan and her family have a long tradition of raising money for Casa de Peregrinos every year before Thanksgiving. Not only that, they will match any funds contributed by PVA attendees.
For more information send email to Eric.
Can't wait for the election to be over? You're not alone.
Rep. Joanne Ferrary said she can hardly wait for this "cynical and exhausting campaign to be over." She is eager to get back to Santa Fe to "deliver more jobs, higher wages and lower costs, better education, and the brightest future the state has ever faced." Joanne thanked Pat Aguirre, her phenomenal field manager since 2012. She thanked Roberta Gran, formerly of Las Cruces, who came back from Connecticut, to help with the campaign. Roberta is remembered fondly as a savvy campaigner, and yes, she's cooking for volunteers!
For more information send email to Joanne, call her at 575-649-1231, and visit her campaign website.
Mock trial is looking for intrepid volunteers for the jury
Sylvia Delgado introduced herself properly: she was born and raised in Las Cruces; she is an attorney currently working as a federal public defender. She is also coaching the Lynn Middle School mock trial team, and she's looking for jurors.
Mock Trial
Friday, November 4, 1:30 p.m.
Federal Courthouse
Volunteers will sit in the jury pool, listen to the students, deliberate, and render a judgment. Giving positive feedback to the students is an option. Federal Court Judge Margaret Strickland, a Biden appointee, will preside over the trial. Judge Strickland has generously made her courtroom available for the mock trial.
For more information send email to Silvia and call here at 575-571-8337.
When they go low, we dig deep
Rep. Nathan Small spoke with characteristic enthusiasm even while noting that this has been by far the toughest, most negative race he's been in, including his first race which he won by less than 30 votes. Nathan said that if we maintain a Democratic majority in the New Mexico legislature, we are on the brink of realizing many goals (think education and the environment and housing) we've long been working for. He urged everyone to dig deep and give all they can to get out the vote in these final days before the election.
For more information send email to Nathan.
Campaign coach
Pam Coleman explained that she first came to help with the New Mexican election in 2010, and she's been coming back ever since. This August she left the Biden administration to give pro bono help to campaigns across the country. She had some nice things to say about New Mexico and gave us a sample of her "speech to inspire campaign volunteers."
For more information contact Pam at the campaign office, 115 W. Griggs Avenue.
One postcard, one phone call at a time
Gayle Eads praised the volunteers who joined her postcard writing campaigns. "They showed up, they took the cards, they wrote the messages, they brought them back on time, and they were beautiful." Over 1,000 cards were sent including 500 for Gabe Vasquez. Gayle said she would now start phoning.
For more information send email to Gayle.
A shout out for the DRA
Rocky Bacchus spoke about the tremendous benefits the Deficit Reduction Act will bring to New Mexico. He thanked the legislators who worked to get the solar tax credit made refundable so that everyone–regardless of income–can participate.
For more information send email to Rocky.
Keeping a steady eye on energy and El Paso Electric
Allen Downs, who faithfully keeps us up to date on questions of energy and what El Paso Electric is up to, wasn't able to attend this PVA meeting, but he sent his report and you can read it here.
For more information send email to Allen.
8,000 doors times 3 door hangers each? It takes a village
Terry Miller expressed her gratitude to the 72 teams of volunteers who are participating in the GOTV "Yes It Matters" door hanger effort. Terry thanked the people who are making a project of this size work. Jackie Wyer, Jim Mulhauser, and Nena Singleton are supporting volunteers in Las Cruces. The Democratic Party of Doña Ana County funded the door hangers and voter materials. Don Kurtz found the right photos, got the door hangers printed and delivered, and provides ongoing support and counsel.
For more information send email to Terry.
Fighting misinformation, one step and one TikTok at a time
Abraham Sanchez announced that Progress Now New Mexico has recently launched a website with clear and accurate information about the election: Vote Info NM. Abraham explained that for the past six months he has been the disinformation manager, aka the person looking at disinformation all day long and figuring out ways to fight back. For one example, he's on TikTok with factual information including an exceptional piece on monitoring mail in ballots. Abraham reminded us that the work won't be over on election day–we'll need to keep on standing up for election workers and for our democracy.
For more information send email to Abraham.
Commissioner Shannon Reynolds says "thank you"
Shannon announced that the official canvassing of the votes will no doubt be attended by election deniers, so it would be a good time to stand up for the integrity of the election.
Official Canvassing of the Votes
Friday, November 18, 1 to 3 p.m.
County Commission Chambers
845 N. Motel Blvd.
Shannon noted that MIT's Elections Performance Index evaluates election administration across the United States. New Mexico scores above the national average!Shannon expressed his appreciation for all that people have done for this campaign–door knocking, letter writing, donating, phone calls–all of it. He thanked Maggie, his wife of 43 years; Connie Chapman, his campaign manager ("She knows what to say and when to say it"); and his campaign treasurer, Holly Piasente.
For more information send email to Shannon and call him at 575-650-7388.
Feel free to copy and paste
In the service of each of us activating our Personal Influence Networks, Don Kurtz offered his own PIN communication as a template for anyone who would like to use all or part of it. It contains dates, times, and places for voting as well as background information on the amendments and GO Bonds. Sections are easy to copy and paste into your own voting message to friends and family. If you would like Don to send you his PIN letter, email him at donkurtz7@gmail.com. Don added: "Let's get together after the election, on November 10. It will be great to see everybody. Rain or shine, win or lose, we'll be able to share it as a community."
And with that we called it a night.
PVA holds a special post election meeting
November 10, 2022