Unified Action –
The May Unified Action is:
Reach out to the people in your Personal Influence Network
and tell them about the Primary Election
Sponsored by the PVA Executive Committee, www.pva-nm.org
The issue
Voting is essential to our democracy. It's also important that we advocate for the candidates we believe in. A friend's recommendation can have a big influence on how we vote.
Encourage your network of friends to vote in this important election – every vote makes a difference.
Reach out to friends and family members who might not normally vote and let them know which candidates you support. This is an important action!
What we are asking
Urge those in your Personal Influence Network to vote for the candidate or candidates you believe are most qualified.
Which candidates/candidates' representatives came to PVA to ask for support? Thanks for asking! Click here to see a list.
Speak your mind about the LCPS 2018-2019 proposed budget
President of the Las Cruces Board of Education, Ed Frank, invited people to weigh in on the LCPS Budget at the Budget Town Hall. You can check out the entire budget here. Ed encouraged everyone to take a look and let LCPS know what you think.
LCPS Budget Town Hall
Thursday, May 31, at 5:30pm
Las Cruces Public Schools Administration Board Room
505 S. Main Street, Suite 249
For more information, email Ed.
Mr. Doreen Gallegos reveals which candidate he is voting for in HD52 race
Scott Scanland is married to Doreen Gallegos. He said, "I'll be voting for Doreen, and I hope you will too." He said he's seen Doreen working hard to help her district; he's seen her trudge through the mud in Vado in the morning and go to Santa Fe in the afternoon to secure money for assistance; he's seen her working to help small businesses, crime victims, and teen mothers. "She's in a leadership position," Scott continued, "and she has the experience, knowledge, and heart to do the job." For more about Doreen, visit her campaign website.
For more information, email Scott.
Have you heard of the Adelante Progressive Caucus?
Kathy Wooten spoke about the new caucus of the New Mexico State Democratic Party: the Adelante Progressive Caucus. The caucus values:
Social, environmental, racial, economic, and gender justice
Ecological stewardship to protect our people, land, water, and air
Principles and practices of peace in our state, country, and across the world
Kathy invites you to participate in the process. Read more about this caucus here. You can join here.
For more information, email Kathy.
Protest the border wall
Director of the Southwest Environmental Center, Kevin Bixby, explained that Trump's border wall is being built – the starting place for the wall is Doña Ana County. Aside from the fact that the wall will be ineffective, the structure is affecting nature and wildlife. Kevin said it's time to fight back and announced a protest at the wall (in Santa Theresa). You can ride the bus to the protest – click here for more information and to reserve your space.
All Against the Wall
Saturday, June 2, 5-8pm
Twilight march, speakers, music, dancers, spoken word, voter registration
Bring sun protection, desert footwear, and your voices.
For more information, email Kevin or visit this Facebook page.
Support for Mary Martinez White and Karen Trujillo
Charlotte Lipson explained why she is supporting Mary Martinez White for HD33. "Since so much of the business of the state legislature relates to the budget, Mary's experience as twice elected treasurer of Doña Ana County and her Master's in Public Administration will serve her well in attacking what she calls the number one issue in New Mexico, poverty and especially child poverty. Her concern for children also translates into strong support for sensible gun safety regulations similar to what is legislated regarding owning and driving vehicles. Mary says her priorities include early childhood education, economic and border development, immigration, environmental protection, and rural transportation." [Can you tell Charlotte gave the recap writer an exact copy of what she said? Thanks, Charlotte! :)]
Charlotte added, "I also hope you'll vote for Karen Trujillo for County Commission. I think she's fabulous."
For more information, email Charlotte.
Manny Sanchez running for County Commission, District 5
Manny talked about how he's been knocking on doors in District 5. Do you want to know what the voters are saying? He said voters feel let down by the county commission. For example, they are disappointed the commission voted against funding rural transportation. Manny said true leaders are accountable and transparent; he wants to bring those qualities to the county commission; he wants to make the county somewhere that employers want to come. He asked for your support and vote.
For more information, visit his campaign website or email Manny.
Isabel Jerabek running for District Court Judge
Isabel spoke about her experience being a Domestic Violence Hearing Officer and a sole practitioner at her family law office. Additionally, she is a contract attorney with the NM Office of Guardianship, and therefore frequently advocates for people with developmental disabilities. She explained that her experience puts her in a position of knowing how to get services for people. "A vote for me is a vote for persistence, patience, and longevity," said Isabel.
For more information, visit her campaign website or email Isabel.
Shannon Reynolds running for County Commission, District 3
"I'm only endorsing one candidate in the primary election and that's Shannon Reynolds!" Shannon Reynolds exclaimed. He talked about how he grew up in Kentucky and many of his elders couldn't read or write; he was the first in his family to go to college (despite some relatives telling him college was useless.) Shannon said education is the key to unlocking a better future. He encouraged people to stay positive throughout the primary election and vote on the issues.
For more information, visit his campaign website or email Shannon.
Xochitl Torres Small running for US Congress, District 2
Xochitl talked about why she tells the story of her grandmother, who came to this country and worked in the fields, so her children would have better opportunities. She said by talking about her own background, people are invited to tell their own family stories. While traveling around District 2, Xochitl has heard some heart wrenching stories. She has heard from students who are American citizens but who are afraid to have their picture taken for fear ICE will come for their parents. She has heard from women who don't have accessible healthcare. There are so many other stories in NM (but she didn't have time to speak to them all in two minutes!); Xochitl said she is inspired by these people, who are struggling in many ways but who are still showing up to fight for our future, much like her own grandmother did. She asked for your vote and reminded people that early voting is ongoing and the primary election is June 5.
For more information, visit her campaign website or email Xochitl.
Why are some current PRC commissioners ignoring advice of experts? (Hint: check their campaign contributions)
Merrie Lee Soules told us that the El Paso Electric proposal for Community Solar is a bad proposal. It would make solar energy cost twice as much as it should. She pointed to the same situation that happened with PNM; the PRC accepted that proposal despite being advised to reject it by the hearing examiner, New Mexico Industrial Energy Consumers, as well as a prominent environmental group. The experts said the proposal would disenfranchise independent power producers and would make the process unfair and uncompetitive. The Commissioners rejected this advice and chose to contract with Affordable Solar.
Two of the commissioners who voted for the proposal (Sandy Jones and Linda Lovejoy) have accepted campaign contributions from Affordable Solar. In light of this and other issues, Merrie Lee suggested, "We need to change the PRC commission by electing Steve Fischmann. He will look out for consumers."
For more information, email Merrie Lee.
The Organ Mountains Desert Peaks Monument celebrates its 4th birthday
State Senator Jeff Steinborn had several topics to discuss in his two minutes.
The New Mexico Outdoor Economics conference was a big hit.
Ask yourself: should southern NM be a site for placing 60 years worth of nuclear waste? Click here to read more.
"Let's win CD2," said Jeff, who then endorsed Xochitl Torres Small. "You can see how hard she works on the campaign trail – this is indicative of how hard she will work for us in Congress. Vote for Xochi."
Attend the OMDP Fiesta and celebrate the monument!
May 26, 5pm-8pm
Mesilla Plaza
Remember this? (Jeff is there. Can you see him?)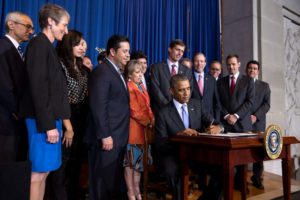 NM's largest natural gas producer attempting to shut out public input
Lucas Herndon, from ProgressNow NM, has written a comprehensive blog on how NM's largest natural gas producer is trying to silence the public. People with gas wells on their land have previously had a voice in how many wells are drilled; the Oil Conservation District is considering waving this rule and removing public input in this process. Lucas suggests you email OCD Division Director Heather Riley and say, "It's completely inappropriate for this issue to even be considered and be on the docket for this hearing. Public input is vital on issues such as this." Please do so prior to the Public Hearing in Santa Fe, which is on May 31 at 8:15am.
For more information, email Lucas or find him on Twitter.
Lynn Ellins running for County Commission, District 1
Former County Clerk Lynn Ellins said he is still disturbed by the situation that happened with former treasurer of Doña Ana County, who was accused of Corruption in Office/Gross Immorality by a Public Official. Lynn said it should have been easier to remove him from office, and therefore, if elected he would support a resolution that would suggest the state constitution be changed to make it easier to recall elected officials. You can read more about him on his Facebook campaign page.
For more information, email Lynn.
Mary Martinez White running for State Representative, District 33
Mary Martinez White said the core of who she is goes back to growing up in a poor family in rural New Mexico. She is the youngest of ten siblings; her sister was diagnosed with schizophrenia and "back then we didn't know what to do, we didn't know what was happening." Her upbringing and life experiences, said Mary, help her relate to New Mexicans, who are experiencing similar circumstances. She said that throughout her career, she secured $19.7 million in funding for organizations and various departments. Further, she said that having local, state, and judiciary experience makes her ready for the job of state representative.
For more information, visit the campaign website or email Mary.
Check out KTAL Community Radio and Conversations with Democrats
"We need to support arts and creative programming on our own community radio," said Nancy Baker. In that light, she suggested people listen to Lynn Moorer's show "All about Books," which is on Fridays at 12:30. You can tune to the channel on the radio, at 101.5, or you can stream the station at www.lccommunityradio.org.
Nancy also invited people to the May Conversations with Democrats; she will be leading the discussion called, "Reining In A Run-Away Presidency."
Conversations with Democrats
May 26, 2pm
Holy Family American National Catholic Church, 702 Parker Road
For more information, email Nancy.
When it comes to the PRC race, vote with your wallet
Rocky Bacchus advised people to vote for Steve Fischmann for PRC, and to get the word to your personal influence networks. This is an important race, especially for our wallets, said Rocky, who added, "Renewable energy is the lowest cost option." Of Steve, he said, "He is a good man, who believes in doing what's right. He will do a great job on the PRC. It's simple: he's the right guy." You can learn more about Steve at his campaign website.
No contact information for Rocky provided.
What is it like for Latino students in New Mexico schools?
Elisa Sánchez, who described herself as a "plain old activist," said that Latino students are invisible in New Mexico schools. She said this is due to the state being occupied and colonized and people's culture/language being dismissed. Elisa postulated that Latino students attending school in a white system, which "pretend to have a homogenous population" affects the student's ability to learn. "There are three cultures here," she said, adding, "Let's love each other."
For more information, email Elisa.
Proud dad endorses his daughter, Xochitl Torres Small, candidate for US Congress
"Xochitl has made me proud every day," said Marcos Torres. "She has everything it takes to be a Congresswoman. She's honest and hard-working." Not even Nathan [Small] matches her drive, Marcos joked, "although he comes close." Marcos hopes you will vote for Xochitl in the upcoming primary election.
In addition to being the father of Xochitl, Marcos is the president of the Las Cruces Transportation Federation. The school bus drivers are asking the state to require air-conditioning in school busses. "How hot is too hot to be safe?" asked Marcos. If it's 100 degrees outside, the temperature in a bus can get as high as 117 degrees. You can read more about this here.
For more information, email Marcos.
Karen Trujillo running for County Commission, District 5
Karen expressed her concern for the children, now out of school, who will be working in hot sheds and fields all summer. She said the county needs to be there for these children, and provide access to opportunities, education, and transportation. She believes she has the leadership ability, vision, and can-do attitude to be a great county commissioner. She encouraged people to vote for her in the primary.
For more information, visit her campaign website or email Karen.
Will you regret not doing more?
Pat Aguirre emphasized that Billy Garrett, who is running for Lieutenant Governor, can win if everyone reaches out to their personal influence networks. She is also looking for people to make phone calls. She said she has been calling voters and it's surprising how many people either don't know about the upcoming primary, or haven't made up their minds about the candidates. Pat reiterated that there are a small number of days until the June 5 primary and every action you can do for Billy will make a difference. "We need your help now. What are you going to do?" asked Pat. You can see Billy's commercial here, and go to his campaign website here.
For more information or to volunteer, email Pat.
Grace Duran running for District Court Judge
Grace provided several reasons she thinks she deserves your vote. She said, "First, I have held the position before, for 9.5 years." She is a board certified specialist in family law, and she added that she was the first woman to be elected to this position, and the first women to win retention. "This position is constantly turning over," she explained, "My experience and family law designation makes me the most qualified and experienced for the position. Either you or someone you know will end up in this court."
For more information, email Grace.
Support for Mary Martinez White for State Representative
City Councilor Yvonne Flores said she is supporting her friend Mary Martinez White, who "is too modest – she is a known quantity with a proven record." Yvonne stated she's impressed by Mary's resume, which includes working on federal grant projects to bring digital literacy to 17 libraries in NM and working for the Administrative Office of the Courts as the statewide DWI Drug Court Coordinator.
For more information, email Yvonne.
Support for Eddie Lerma for Doña Ana County Sheriff
Randy Lonsway said that he and Eddie Lerma have been friends for 40 years. They worked together and he knows Eddie to be a man with integrity and ethical behavior. Randy related that Eddie believes there is a "lack of a good working environment in the Sheriff's office. He wants to improve this environment and he also wants to restore working relationships with other law enforcement divisions." Randy said Eddie supports putting 2 deputies into each school. In terms of gun safety, he said, "Eddie thinks we should address the person, not the object. Also, we should consolidate gun laws." You can find out more about Eddie on his campaign Facebook page.
No contact information provided.
GOTV for Gubernatorial candidate Michelle Lujan Grisham involves cookies
Field organizer, Nayomi Valdez, encouraged people to help get-out-the-vote for Michelle Lujan Grisham. She said she needs people to door knock and make phone calls, June 2-5. However, if you would prefer not to do those activities, she said you can feel free to stop by the office, 230 S. Water Street, and bring cookies for the volunteers. All help is welcome. You can sign up here.
For more information or to volunteer, email Nayomi.
The Farm Bill and its implications to SNAP
Rich Renner, a volunteer for RESULTS, spoke about the Farm Bill, which failed to pass. "This is a good thing," said Rich. However, he said, it will come up again, and SNAP benefits (previously called food stamps) will be affected. 20% of New Mexicans depend on this essential anti-hunger program. He asked people to call Rep. Steve Pearce (202-225-2365) and urge him to change his vote and support SNAP, and also call Senators Udall (202-224-6621) and Heinrich (202-224-5521) to thank them for their support of SNAP and urge them to protect current funding levels.
For more information, email Rich.
Say yes!
Tessa Stuve recounted that about a year ago she made a decision to, "Say yes. Say yes to making this world a better place." One of the first things she did was get more involved with PVA. 🙂 Next, she agreed to be the treasurer for her friend Micaela Lara Cadena's campaign; Micaela is running for State Representative, District 33. She said she and Micaela are kindred spirits – both in parenting a new generation, and working every day to bring an energetic, positive voice to Southern New Mexico. She hopes you will vote for Micaela and said, "Please feel free to volunteer for the campaign!" For more information about Micaela, visit her campaign website or Facebook Page.
For more information, email Tessa.
Support for Gubernatorial candidate Jeff Apodaca
Hamilton Cruz grew up in Las Cruces – he reminisced about how the Loretta Mall used to be "the mall," and that's where the kids hung out. However, he was unable to find a good job in Las Cruces, and therefore, he moved. "I came back to raise my family here," said Hamilton. "But, I'm finding New Mexico is staying the same, with negative results." He said that's why he's supporting Jeff Apodaca for Governor, who he said "will help with these issues."
For more information, email Hamilton.
Support for Lieutenant Governor candidate, Howie Morales
Thomas Durham wants people to know that Howie Morales cares about Las Cruces. He said he's supporting Howie because of his experience in the Senate. Thomas explained that Howie wants to do away with the PARCC test, legalize marijuana, and get universal healthcare for state residents. "We cannot have 8 more years of what we have just had with the Martinez administration; we need a strong ticket to beat Pearce," said Thomas. He invited people to help with GOTV and talk to their friends about the primary.
For more information, visit the campaign website or email Thomas.
Nathan Small running for State Representative, District 36 (also, OMDP Celebration & support for Xochitl Torres Small)
As usual, Representative Nathan Small squeezed many topics into his two minutes. First of all, he announced he is running for reelection. He is proud that the legislature passed an Independent Ethics Commission during the last legislative session. You can learn more about Nathan at his campaign website.
Nathan seconded Senator Steinborn's announcement and hopes people will join the OMDP 4th anniversary celebration on Saturday, May 26, from 5-8pm, in the Mesilla Park Plaza.
Finally, he lauded Xochitl Torres Small and her candidacy for US Congress. "Xochi is incredibly honest and has the tools to help our state," adding that, "We can do it. She can do it. And, together we will."
For more information, email Nathan.
Feeling groovy
Alfredo Patiño said that attending the PVA meeting made him feel hopeful about the future. So nice to hear, Alfredo!
For more information, email Alfredo.
Volunteers for Xochitl Torres Small campaign welcome
An individual (who didn't turn in a yellow information card and didn't say her name) invited people to volunteer for Xochitl Torres Small's campaign.
No contact information provided.
Proud wife endorses husband, Steve Fischmann, candidate for PRC
Sandy Katayanagi said she hopes people will vote for (her husband) Steve Fischmann, who is running for PRC. "Steve works hard for the people," Sandy said, listing his work to cap predatory loan interest rates, help employees secure low interest loans, keep energy rates low, and promote renewable energy. "He does a lot of great things and he's a great guy." You can find out more about Steve Fischmann here.
For more information, email Sandy.
Kim Stewart running for Doña Ana County Sheriff
"My previous career was being an annoying constituent," began Kim, "and therefore, I will always have work." She encourages others to remain inquisitive and involved. She said she is enjoying campaigning because she is meeting voters who will help shape the future. "We can do what needs to be done and move forward as a county." For more about Kim, visit her Facebook page.
For more information, email Kim.
Richard Jacquez running for District Court Judge
Richard Jacquez said it's been a pleasure getting to know the voters. He asked for people's support and vote in the upcoming primary. Finally, he thanked PVA for giving the candidates a space to get their message out. "The whole process is better because of involved voters," he said.
No contact information provided.
Support for Gubernatorial candidate Joseph Cervantes
Laura Garcia spoke about her career as a campaign manager. "This is the first time I'm working on a relative's campaign," she said, explaining that Joseph Cervantes is her cousin. She stated that she believes Joseph is the best candidate for governor because he's ethical, courageous, and hard-working. She invited people to look for the gubernatorial debates online and listen to Joseph's positions. "He is exactly what you see in those debates. I hope you will consider voting for him for our next Governor."
No contact information provided.
Support for Kim Stewart, Doña Ana County Sheriff candidate
Jaime Quesada, who has been a law enforcement officer for 22 years, said he is supporting Kim Stewart for Sheriff. "She knows what actual community policing means. If she is sheriff the department will be able to come together and find solutions for problems. The way to do that is try to work with the least resistance. This will be doing what's right for the community."
No contact information provided.
Our next meeting will be Thursday, June 28, 2018, 7 p.m., at Munson Center. After a short meeting, we will head to Amaro Winery for the Annual PVA Party!
You don't want to miss it!